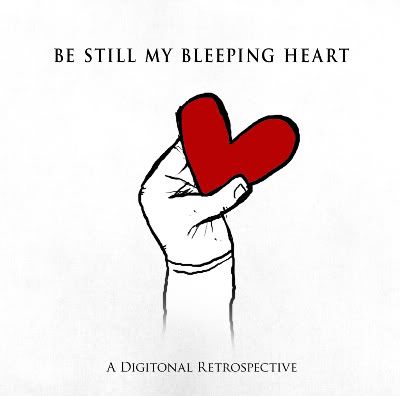 Listen here
Download digitally from iTunes
CD Available from the Just Music Store
Download high-quality digital from Linn Recordings
"
This collection of recordings from 2002 - 2008 ought to mark out Andy Dobson's Digitonal as something special - Be Still My Bleeping Heart - the best we will hear of its kind in 2010. While the rest of the world spent the noughties lurching from one musical fad to the next, Digitonal quietly creatd some of the most beautifully contructed art of the decade. This culmination of that work ought to go down as one of the albums of the year
" -
Music OMH
"
This is delicate, fragile music that sends the emotions flying. Looping and developing throughout, Digitonal offer songs that could still be released now and be hailed as a masterpiece. Timeless music like this will still be hailed as a victory in years to come.
" -
Virgin
"
Minimalist beauty, the perfect intersection between Steve Reich's miminal classicism, the Orb's after-hours ambience and Plaid's Warped electro have led [Digitonal] on a slow but successful climb amongst electronica's higer ranks...wonderful
" -
Uncut
"
A merging of classical concepts with electronic progression, Philip Glass merged with the Orb...beautiful
" -
Call Upon the Author
Pioneering neo classical / electronica act Digitonal were founded by clarinetist, soundtrack composer, DJ and keyboard guru Andy Dobson and his partner, celebrated violinist Samy Bishai. Drawing comparisons to Orbital, Philip Glass and Steve Reich, their tenth year sees the release of a newly mastered and reworked retrospective album, BE STILL MY BLEEPING HEART.
The idea behind Be Still My Bleeping Heart was not as a kind of best of, but a collection of early tracks released on tiny little bedroom labels put together into a proper album, a coherent piece of work, says Digitonal's Andy Dobson and the 11 tracks on this cd, recorded between 2002-8 combine to give a remarkably coherent collection.
Although the concept behind Digitonal's music originates in home recordings, Dobson always wants himself and Bishai to go out as a band augmented by guest musicians. "That's our strength as a live act within electronica circles". They have played at festivals both here and in Europe, including the Big Chill, but although their music is melodic, at times elegant, labeling it as 'chill-out' would be like branding it as some sort of hip muzak, when it has far greater depth.
Catch them playing at one of the new series of Just Music Cafe nights at London's
Inspiral Lounge
on November 4th.
Their 2008 album Save Your Light For Darker Days is fast becoming a seminal electronica album
Listen here
Download digitally from iTunes
CD Available from the Just Music Store
"
beautiful
" - The Guardian
"
cinematic anthems featuring multi-tracked strings and majestic melodies
" - Uncut
"
a heavenly overture...sweeping bows and tumultous build ups..if the bass doesn't get you then the throb of the cello will
" - Music OMH
For more about Digitonal and their music read
here...