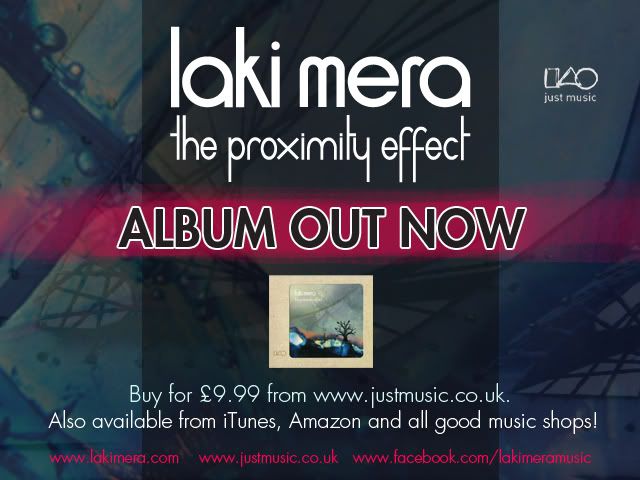 "Wonderful debut album....a dense folktronic architecture with an intricacy and subtlety that recalls the Blue Nile, Cocteau Twins and Portishead....a ghostly wall of sound of extraordinary emotional power" - The Sunday Times, 4*
"This is how it should be done...It's the most confident debut I've heard in a good while. It has the calm authority of musicians who know exactly what they want to do, are prepared to work stupid hours to realise and perfect it" Drowned in Sound
Available from the Just Music store, as well as from iTunes, Amazon and all good music shops
SHOWS NEXT WEEK
After their fantastic run of Scottish shows, Laki Mera are rolling back into London on Wednesday 13th July for a free 1pm show at Rough Trade East, followed by an evening show (stage time 7.45pm) at Hoxton's Underbelly, and a set the next day at Proud Galleries. See below for full list of dates, with ticket links :
July 12th - The Musician, Leicester [tickets]
July 13th (1pm) - Rough Trade East, London [free]
July 13th (7.45pm) - Underbelly, London [tickets]
July 14th (10pm) - Proud Galleries (South Gallery0, London [free]
July 15th - Band on the Wall, Manchester (with Marconi Union) [tickets]
July 23rd & 24th - Deer Shed Festival, North Yorkshire [tickets]
Sept 8th - Water Rats, London
R2 DERMOT O'LEARY SESSION THIS SAT
The band will also be in London this Saturday for Dermot O'Leary's The Saturday Sessions, on BBC Radio 2 at 3pm, so make sure to tune in then! We heard them rehearse the cover song they've chosen for Saturday, and it's pretty special....
Laki Mera have a GREAT NEW VID for new single Fool - from their stunning new albumThe Proximity Effect - animated by the brilliant Chris Hemming. Check it out below:

Keep in touch via their Facebook page